Featuring Bluegrass and Jazz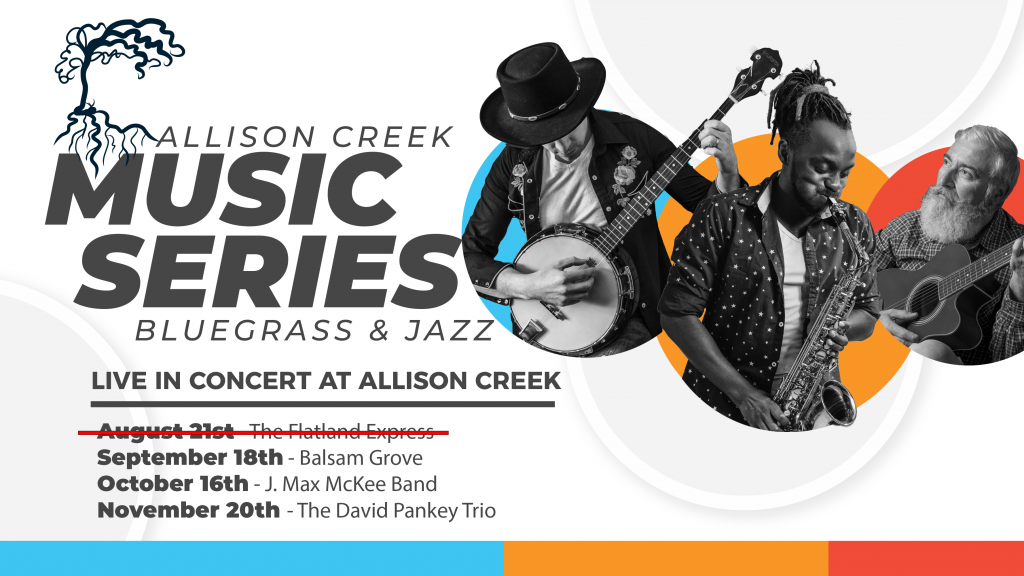 Allison Creek Music Series
The Allison Creek Music Series holds concerts on the 3rd Saturday of each month from March – June and August – November. These concerts are held outdoors (weather permitting and upon further notice) following CDC guidelines. Bring a chair (we will have some chairs available), a mask, and socially distance yourself from others. We are also sharing these concerts live through the Allison Creek Presbyterian Church YouTube channel.
Schedule:
• 5:00pm – until: Food Truck with Desserts made by Church Volunteers
• 5:15pm : Opening Act
• 6:00pm – 8:00pm: The Featured Band
---
Upcoming Concerts
September 18th 2021 – Bluegrass Concert – Balsam Grove
October 16th 2021 – Bluegrass Concert – J. Max McKee Band
November 20th 2021 – Jazz Concert – The David Pankey Trio
Come join us for a great night of legendary music, food, fun and fellowship. Food is provided by Roman's All-Star Café with the menu posted on AKA Roman's Treats & Dogs.
We will continue to have more great talent booked for the rest of the year so save the third Saturday of each month to not miss a single show.
As always, the Allison Creek concerts are FREE. However, donations from the audience and our online viewers help to pay the band and other Allison Creek Presbyterian Church Outreach activities.
---
Past Concerts
2021
March 20th 2021 – Bluegrass concert with The Golden Valley Crusaders
April 17th 2021 – Jazz concert with The David Pankey Trio
May 15th 2021 – Bluegrass concert with Cottonwood
June 19th 2021 – Jazz concert with The David Pankey Trio
August 21st 2021 – Bluegrass Concert – Flatland Express